Emer Harris & Dennison Lott Harris: Owner of the First Copy of the Book of Mormon; Witness of the "Last Charge" of Joseph Smith
By Jeffrey M. Bradshaw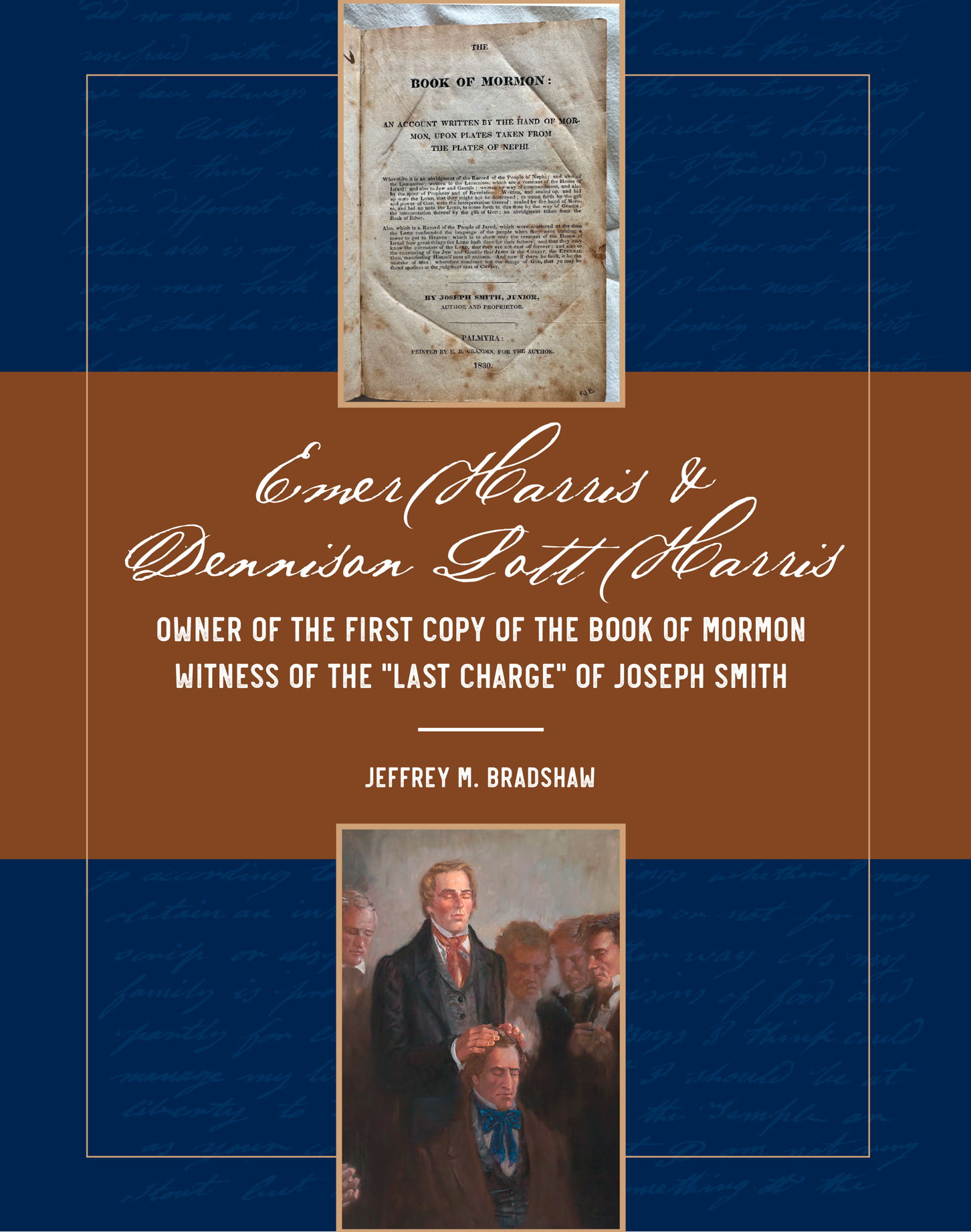 Published by Eborn Books
Over 60 color photographs and images
Buy – Amazon
Softbound (Color): $30.35 Link
Softbound (Black and White): $24.95 Link
Kindle Replica (Color): $9.99 Link
Buy – Eborn Books
Softbound (Black and White): $20.00 Link
Leather-Bound (Color): Contact Eborn Books Link
Reviews
"Although overshadowed by his much more famous younger brother, Martin, Emer and Dennison were important figures in their own right. So this engagingly written and meticulously researched book is a welcome contribution to the history of the Restoration. But I have a personal reason for hailing it: Over the past several years, I've been focused on the Book of Mormon witnesses. Now, though, I'm turning to a project on the succession of Brigham Young and the Twelve to the leadership of the Church. And here—amazingly—is a volume that's important for both of those subjects!"
—Daniel C. Peterson, Professor Emeritus of Islamic Studies and Arabic at Brigham Young University and President of the Interpreter Foundation
"If you are looking for a typeset version of the life and documents associated with Emer Harris and his son Dennison, this book is for you. It is well-researched and has a lengthy bibliography. It is a wonderful contribution to scholarship and our further understanding of these two faithful Saints."
—Susan Easton Black, Professor Emerita of Church History and Doctrine at Brigham Young University and author of Martin Harris: Uncompromising Witness of the Book of Mormon
Summary
In this new book, you will find the first comprehensive account of two little known heroes of the Restoration.
Emer said he received the first bound copy of the Book of Mormon from his brother Martin and recorded unique details of some of the events in its lost pages. But that is only the beginning. Emer's acceptance of the truths and covenants of the Gospel frequently left him and his family impoverished, in peril, and physically worn down. It was Emer's knowledge of the truthfulness of the Book of Mormon and the divine call of the Prophet who brought it forth that enabled him to lay down his all for the Lord.
Referring to Emer's son Dennison Lott, Joseph Smith once said, "There's the boy I can trust." Dennison's personal narrative describes the harrowing events in 1844 when, as a young man, he risked his life to protect Joseph Smith from murderous dissidents. Much less known is Dennison's role as the only independent witness to events surrounding Joseph Smith's "Last Charge" to the Twelve as he prepared to "roll the kingdom off [his] shoulders" onto theirs. This book affirms the importance of the keys received by the apostles, then and now.